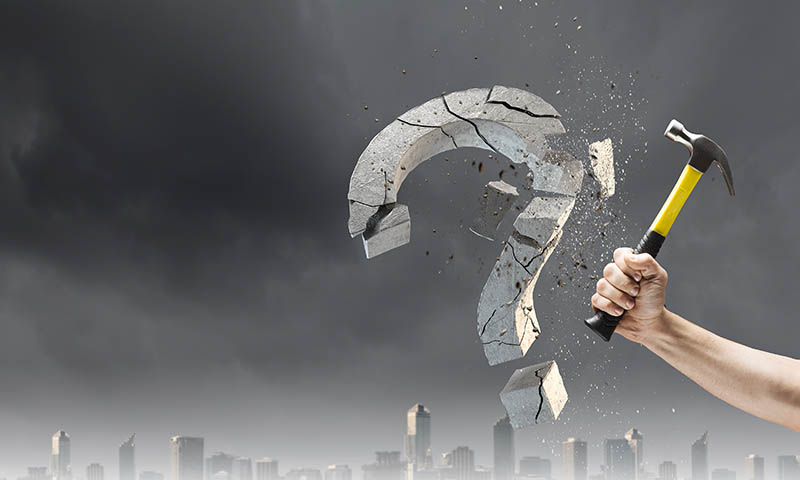 I was talking to an entrepreneur the other day who was extremely excited about her upcoming launch. She shared with me how she was going to build up her list, her launch sequence, and the program she was going to be offering. Obviously, she'd put a lot of time into creating a very detailed plan for her business!
And then I asked: "What if it doesn't work?"
Her reaction was as if I had accused her of torturing kittens for fun.
"Of course it's going to work! I'm not going to engage in negative thinking!!! I'm totally committed to this plan, and I'm not going to leave myself any opportunity for failure."
In other words … there was no Plan B.
And it just so happens that she had never done a launch before, and her financial situation was precarious. Her very shiny, elaborate, but totally unproven Plan A had to work, or she was going to be in trouble.
I think that's crazy, not to mention irresponsible.
There are a dozen ways a launch can go sideways for an inexperienced marketer.
She wasn't operating from a place of commitment. She was operating from a place of hope. And hope has no place in business! (This was not a client or student of mine, by the way!)
I'm all for being committed to our financial intention. I'm a huge fan of asserting our Divine will, of being 100% focused on the reality we want for ourselves, and refusing to tolerate less. Whether you want to make $5K or $50K in a month … you can create whatever you want!
Commitment to a financial intention is awesome.  And your commitment is not in any way diminished by having a solid Plan B, especially when Plan A is unproven. In fact, having a Plan C and Plan D in your back pocket isn't a bad idea, either.
[thrive_leads id='3577′]
You can be powerfully committed to your financial intention, and have the unshakeable knowing that you WILL manifest your goal. Being flexible as to HOW the money will come and planning for contingencies doesn't mean you're being negative, or that you're sending mixed messages to the Universe.
Plans often crumble to dust in the face of reality. If we pay more attention to the plan than to our results, reality WILL smack us upside the head in very painful ways.
There's another very important energetic reason why I like back-up plans, especially when we're in a tight financial spot.
That reason is attachment.
Attachment is an ego-driven state that often derails our manifesting efforts. NONE of us are immune to attachment because we all have egos! And that's usually a good thing, because our thinking mind is obviously highly necessary to us.
But when we're in a place of very real NEED – when we NEED a business project to succeed, when we NEED a client to sign on, when we NEED a speaking engagement to get booked – it's almost impossible to stay out of attachment.
The need to pay our bills is real, after all, no matter how much we meditate and tell ourselves that the Universe has our back.
Attachment is that state of WANTING that actually affirms the energy of WANTING back to the Universe, and thus pushes our results away. Attachment is totally different from Soul-driven desire. When we're in attachment, our egoic self-identification gets wrapped up in whether we succeed or fail.
When we're in attachment, a small part of our mind is always waiting, waiting, waiting for results. Even though we may try to distract ourselves, a part of us is wondering about our opt-in rate, or whether that prospect has gotten back to us yet, or whether we've had any new sales since our free webinar.
The more we NEED our results, the more attached we become, the more we sabotage our results.
It's impossible to avoid attachment completely. We're human Beings, and at the level of ego, we want results. But it IS possible to manage attachment … and the best way I know to manage attachment is to stay away from that most dangerous number in business, the number ONE.
If you have only ONE networking event or ONE speaking engagement this month, and you MUST find clients there, you will be in a ton of attachment and you'll actually push prospects away.
If you have only ONE free offer to which you're driving traffic and you really, really need those leads, you'll actually decrease your opt-in rate.
If you've only got ONE sales conversation scheduled this month and you really, really need that new client, you are significantly decreasing your chances of enrolling that prospect.
How different is it when you have three or four opportunities for income generation lined up?
It's very, very different! You're not going to be in nearly as much attachment … and you will create better results.
Having a Plan B, Plan C, and Plan D doesn't make you less committed to your financial intention. It just makes you a more responsible entrepreneur who is willing to admit that unintended results are a very real part of our journey.
To your success,
Andrrea Hess