When we start a business, we tend to arm ourselves with information – with modalities, with webinars, training programs and events.  This information-gathering often takes up a lot of our precious time … time that we could spend DOING and implementing, rather than learning.
Our rationalization?  We are preparing ourselves for success.
The truth?  We're trying to stay safe.
The mind and ego has an overwhelming need for knowledge before venturing into the big, scary unknown that is our own business.  After all, if we can just know the "right" way to make money then we'll be safe.  If we know the "right" way to market ourselves and sell, then we'll feel prepared, we'll know what we're doing.  We'll be safe.
Of course, there is no "right" way.
But we sure try to find one … and this is exactly where we shoot ourselves in the foot.
We "try."  We try a way of marketing ourselves, we try launching a product, we try running Facebook ads, we try selling our products and services.
The problem with trying is that it always carries at least a partial expectation of failure.  Sure, it makes our mind and ego far more comfortable.  If we try and fail, we can tell ourselves that at least we tried.  Failure won't hurt as badly, won't rock our world, will not shake our faith in the Universe and ourselves.
If we try and fail, we can try again and pat ourselves on the back for our willingness to try.  We can even congratulate ourselves on our perseverance, our determination, our commitment to our Soul Purpose.
The difference between TRYING and DOING is our willingness to risk.
When we DO, we put our hearts on the line.  We take all of our passion, our hopes, our dreams and risk being very, very wrong.  Doing feels like we're putting our lives on the line.  That feeling may not be rational – after all, no-one has ever died by launching a website, or having a sales conversation.  But it sure feels like we are putting our naked heart on a silver platter for all the world to see, to criticize, to reject.
If your next business project doesn't have the potential to break your heart, to devastate your self-esteem, to make you lose faith in all that you thought you knew … you're not playing big enough.  You're just trying.
Doing your purposeful work requires giant leaps of faith.
Trying is looking for the staircase that will lead us safely down the cliff and conveniently up the other side.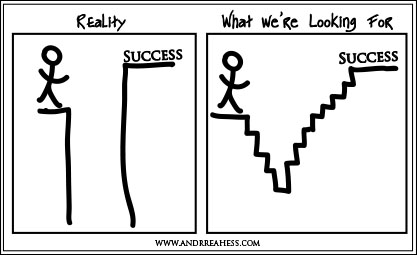 Take a look at your current business projects.  Look at your calendar.  What's on your to-do list that has the potential to break your heart?  And what is on that list that is designed to minimize risk?
Leave your comment and share!
To your infinite abundance,
Andrrea Hess