Welcome!
My name is Andrrea Hess. I'm a psychic, spiritual teacher, author and speaker. I work with conscious entrepreneurs who want to create a new, more abundant financial reality for themselves, and help them create their desired circumstances in a way that is highly authentic and aligned to who they really are.
It's really not about the money - even though I am madly, passionately in love with all things manifesting, especially manifesting money!  But ALL of our circumstances count towards our abundance-level.  In fact, often the reasons we're not manifesting financial abundance can be found in other life areas, such as our health and our relationships!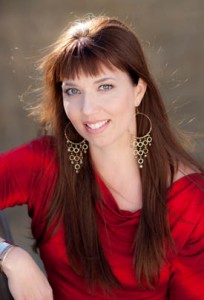 Creating financial abundance allows us to stand in the fullness of our free will and self-determination and make the choices we WANT to make. Money allows us the freedom of authentic, impeccable Divine self-expression.
My own journey to a multi-six-figure business began as an opera singer ... where I got to experience first-hand what it's like to be a "starving artist." It wasn't much fun! I felt inspired to study massage therapy - at the time, I told myself it was a practical job that I could do between singing gigs - and found that actually helping people feel better was infinitely more satisfying to me than standing on stage. I specialized in helping clients with chronic pain issues.
I created a successful private massage practice for myself - my first successful entrepreneurial endeavor. Over time, though, I wanted to work with people in a more meaningful way. I felt that, while I was certainly making my clients feel better for a week or so at a time, they weren't really CHANGING their lives. I became certified as a yoga teacher and as a life coach, seeking a path through which I could be of greater service and help my clients address the underlying issues of their chronic pain.
The psychic thing ... well, that was a surprise! A psychic friend of mine needed a website. And she was teaching a class on Akashic Record reading. So ... we bartered. I got to take the class, and created her website for her. Much to my surprise, I sat in this class and realized that I KNEW this work. I had never considered myself all that psychic or even intuitive ... and here I sat, knowing this was my purposeful work.
Let's be honest ... no-one really wants to be a psychic! It took me quite a few years to "come out of the psychic closet" and get comfortable with this profession. I began giving readings, helping clients understand their Soul Purpose and resolving energetic blocks and restrictions that were preventing them from creating the lives they wanted for themselves. Over time, my clients began asking me to teach the Akashic Record work, and I created Soul Realignment, an intuitive healing modality that, I am proud to say, now has certified Practitioners in twenty-six countries across the world.
As a psychic and spiritual teacher, I had somehow build a solid six-figure online business for myself.
I began attracting more and more entrepreneurs with financial issues in my reading practice. So ... I took the hint from the Universe, embraced my love for entrepreneurship and marketing, and began working with conscious, service-driven entrepreneurs.
As a psychic, I have a pretty uncanny gift for knowing what actions we need to take in order to create what we want ... and what is just a waste of time. Abundance is, first and foremost, about alignment. For a solopreneur, alignment is actually fairly simple to come by. For larger companies, creating energetic alignment for financial flow is often a matter of bringing all decision-makers into alignment with not only money, but with each other as well. At all times, though, the path to an abundant income IS discernible ... and it IS available!!!
I hope you'll join me on the journey into greater financial abundance - download my free report "The Money Attraction Method" at the top of the page to get started! That'll get you on my mailing list, and I'll keep you posted about my upcoming classes and programs. Or visit the "Work with Andrrea" page to start our work together right now.
Blessings,
Andrrea Hess